Description
Two beachcombing brothers, Johnny and Scott, find a friendly little sea monster that was kicked out of the cave by his monster family because he doesn't want to scare anyone. The boys hide Sigmund in their clubhouse located behind their house. But their nosy housekeeper and Sigmund's mean brothers keep the boys tittering on the brink of disaster.
Johnny Whitaker Starred as Johnny Stewart (he played Jody on Family Affair and Tom Sawyer in Mark Twain's famous novel)
Scott Kolder costarred as Scott, Johnny's younger brother. You may see his name in the credits these days as a Sound Effects Editor.
Mary Wickes played their Aunt Zelda.
Margaret Hamilton was brought from New York to be in several episodes as the nosy next door neighbor. Miss Hamilton is best known as the Wicked Witch of the West in the classic movie The Wizard of Oz.
Products
Sid & Marty Kroffts Saturday Morning Hits
Sold by: Amazon.com
Purchase
Video
Search
Bios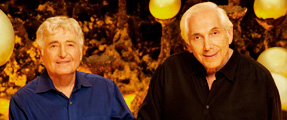 Many of the most colorful and fondly remembered children's series of the 1970s and 1980s sprang from the imaginations of Sid and Marty Krofft. Their groundbreaking, live-action fantasy shows were...
Read More
Awards
Music City News

Barbara Mandrell, Program of the Year, 1981

Action for Children's Television

Pryor's Place for Achievement in Children's Television, 1985

Youth In Film

Lifetime Achievement Award, 1992
History
It all started when Sid & Marty Krofft's father Peter Krofft, discovered seven-year-old Sid (born July 30, 1929) had puppeteering talent and auditioned him in his own production of "Snow...
Read More