Description
New to the world of Sid & Marty Krofft is the dog themed preschool show Mutt & Stuff! Starring Calvin Millan, son of "The Dog Whisperer" Cesar Millan, and his larger than life yellow dog named Stuff. The series follows the duo and their day to day activities at Mutt & Stuff, a wacky and whimsical school just for dogs!
The series begins with Cesar Millan turning over control of his school for dogs called "Mutt & Stuff" to his son, Calvin. The show features an ensemble cast of dogs (both real and puppets), along with guest stars who help Calvin and Stuff teach kids how to train, explore and get the most from the friendship and loyalty that dogs can provide.
Sid & Marty said that they have always wanted to do a show with puppets and dogs, two things that kids love. Mutt & Stuff is the realization of that dream and has marked the beginning of a new era for the Kroffts.
[ngg_images source="galleries" container_ids="1″ display_type="photocrati-nextgen_basic_thumbnails" override_thumbnail_settings="1″ thumbnail_width="240″ thumbnail_height="160″ thumbnail_crop="0″ images_per_page="20″ number_of_columns="0″ ajax_pagination="0″ show_all_in_lightbox="0″ use_imagebrowser_effect="0″ show_slideshow_link="0″ slideshow_link_text="[Show slideshow]" order_by="sortorder" order_direction="ASC" returns="included" maximum_entity_count="500″]
Search
Bios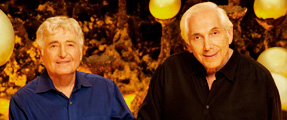 Many of the most colorful and fondly remembered children's series of the 1970s and 1980s sprang from the imaginations of Sid and Marty Krofft. Their groundbreaking, live-action fantasy shows were...
Read More
Awards
Music City News

Barbara Mandrell, Program of the Year, 1981

Action for Children's Television

Pryor's Place for Achievement in Children's Television, 1985

Youth In Film

Lifetime Achievement Award, 1992
History
It all started when Sid & Marty Krofft's father Peter Krofft, discovered seven-year-old Sid (born July 30, 1929) had puppeteering talent and auditioned him in his own production of "Snow...
Read More