Description
"Land of the Lost" is the story of a forest ranger and his two teenage children who fall through a time vortex into another universe. They try to return to our universe, but their lives are constantly endangered by dinosaurs, the 'Sleestaks', seven-foot tall hissing lizard people who live in an underground city and the Land of the Lost's peculiar laws of physics. They also befriend the 'Pakuni', a small tribe of ape-like creatures.
Trivia:
Chaka, the young Paku actually spoke a real language – the Pakuni language was developed by famed UCLA linguist Victoria Fromkin Ph.D.
The writers were the "crème de la crème" of Science Fiction. Some were also wrote on the original Star Trek including David Gerrold who wrote the most popular Star Trek episode "Trouble with Tribbles".
And, Walter Koenig, who played "Chekov" on Star Trek, wrote an episode.
The sleestaks were played by college basketball players; probably the most famous is basketball player Bill Laimbeer who is presently an assistant coach for the NBA basketball team Minnesota Timberwolves. Being a sleestak was sweaty work because the costumes were built on wet suits.
One of the sleestak costumes made a guest appearance on The A Team TV series as Larry the Lizard, one of Hannibal's ruses.
Products
Land of the Lost: Complete Series (Limited Edition Set)
Sold by: Amazon.com
Purchase
Land of the Lost: Complete Series (Limited Edition Set)
Sold by: Amazon.com
Purchase
Video
Search
Bios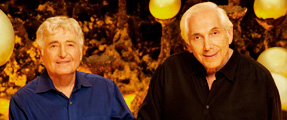 Many of the most colorful and fondly remembered children's series of the 1970s and 1980s sprang from the imaginations of Sid and Marty Krofft. Their groundbreaking, live-action fantasy shows were...
Read More
Awards
Music City News

Barbara Mandrell, Program of the Year, 1981

Action for Children's Television

Pryor's Place for Achievement in Children's Television, 1985

Youth In Film

Lifetime Achievement Award, 1992
History
It all started when Sid & Marty Krofft's father Peter Krofft, discovered seven-year-old Sid (born July 30, 1929) had puppeteering talent and auditioned him in his own production of "Snow...
Read More