Description
On his latest expedition, Dr. Rick Marshall (Farrell) is sucked into a space-time vortex alongside his research assistant and a redneck survivalist. In this alternate universe, the trio make friends with a primate named Chaka, their only ally in a world full of dinosaurs and other fantastic creatures.
A movie version based on the 1970's classic, starring Will Farrell, Anna Friel, Danny McBride and Jorma Tacone.
Search
Bios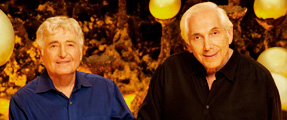 Many of the most colorful and fondly remembered children's series of the 1970s and 1980s sprang from the imaginations of Sid and Marty Krofft. Their groundbreaking, live-action fantasy shows were...
Read More
Awards
Music City News

Barbara Mandrell, Program of the Year, 1981

Action for Children's Television

Pryor's Place for Achievement in Children's Television, 1985

Youth In Film

Lifetime Achievement Award, 1992
History
It all started when Sid & Marty Krofft's father Peter Krofft, discovered seven-year-old Sid (born July 30, 1929) had puppeteering talent and auditioned him in his own production of "Snow...
Read More