Description
While producing the Barbara Mandrell show the Krofft brothers found there was a shortage of puppeteers – so they opened the Krofft Puppet School. Tuition was free, but the candidates had to pass a rigorous audition that included singing, dancing and acting through a puppet. This audition winnowed out a surprising number of candidates including some good puppeteers.
One seemingly simple part of the audition was for the puppeteer to make the puppet say, "My name is Bob." It tripped up a lot of puppeteers. Why? When we say "Bob" we actually open our mouths again at the end, so we really say "Bob-uh" with a very soft "uh" at the end. A lot of puppeteers missed that little mouth motion, and for that they were shown the door.
Van Snowden was the head professor of "puppetology" and the capable Michael Mealiffe was in charge of the school overall.
Search
Bios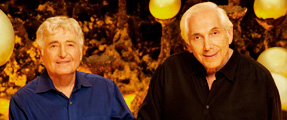 Many of the most colorful and fondly remembered children's series of the 1970s and 1980s sprang from the imaginations of Sid and Marty Krofft. Their groundbreaking, live-action fantasy shows were...
Read More
Awards
Music City News

Barbara Mandrell, Program of the Year, 1981

Action for Children's Television

Pryor's Place for Achievement in Children's Television, 1985

Youth In Film

Lifetime Achievement Award, 1992
History
It all started when Sid & Marty Krofft's father Peter Krofft, discovered seven-year-old Sid (born July 30, 1929) had puppeteering talent and auditioned him in his own production of "Snow...
Read More