Description
H.R. Pufnstuf is the story of Jimmy, a boy with a talking golden flute, whose adventure begins when he climbs into an abandoned sailboat on the shore of a lake. But it is Witchiepoo's trick to capture the boy to get his magic flute.  He and the flute are rescued by a kindly dragon named H.R. Pufnstuf on Living Island where almost everything talks.  All would be happy, – what with dancing trees, singing frogs and a lollipop that owns a candy store– if it wasn't for that mean ol' Witchiepoo who keeps coming after the flute.
Sid & Marty swear up and down "H.R." stands for "Royal Highness" backwards. H.R. Pufnstuf employed quite a few "little people".  Marty discovered one selling newspapers on Hollywood Blvd.
Search
Bios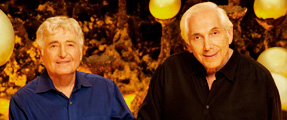 Many of the most colorful and fondly remembered children's series of the 1970s and 1980s sprang from the imaginations of Sid and Marty Krofft. Their groundbreaking, live-action fantasy shows were...
Read More
Awards
Music City News

Barbara Mandrell, Program of the Year, 1981

Action for Children's Television

Pryor's Place for Achievement in Children's Television, 1985

Youth In Film

Lifetime Achievement Award, 1992
History
It all started when Sid & Marty Krofft's father Peter Krofft, discovered seven-year-old Sid (born July 30, 1929) had puppeteering talent and auditioned him in his own production of "Snow...
Read More