Description
One of the more unusual Krofft projects was programming Furbys in foreign languages. Using preprogrammed sound pieces they coded the phrases Furby said, and then synchronized the accompanying movements. They found the mass produced toys movements timing varied and the programmers had to check their work with several Furbys to get acceptable results.
They assembled a great team of computer-savvy puppeteers which was supervised by puppeteer Van Snowden (of H.R. Pufnstuf and the Crypt Keeper fame).
Search
Bios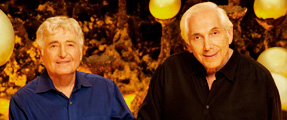 Many of the most colorful and fondly remembered children's series of the 1970s and 1980s sprang from the imaginations of Sid and Marty Krofft. Their groundbreaking, live-action fantasy shows were...
Read More
Awards
Music City News

Barbara Mandrell, Program of the Year, 1981

Action for Children's Television

Pryor's Place for Achievement in Children's Television, 1985

Youth In Film

Lifetime Achievement Award, 1992
History
It all started when Sid & Marty Krofft's father Peter Krofft, discovered seven-year-old Sid (born July 30, 1929) had puppeteering talent and auditioned him in his own production of "Snow...
Read More