Description
Electra Woman and Dyna Girl lead double lives as Lori and Judy, reporters for Newsmaker magazine. When there's trouble the electrifying duo are warned by 'CrimeScope', a computer programmed by electronics whiz Frank Heflin to locate all criminal activities in the area. Operating out of their secret headquarters, 'ElectraBase', Electra Woman and Dyna Girl match wits and powers with assorted evil forces and influences that threaten them and the citizens of their metropolis.
Deidre Hall played the amazing Electra Woman. She is best known for her long time role of Dr. Marlena Evans on Days of our Lives.
Dyna Girl was played by Judy Strangis, who play Helen Loomis on Room 222.
Electronics genius Frank Heflin was played by veteran actor Norman Alden.
[ngg_images source="galleries" container_ids="2″ display_type="photocrati-nextgen_basic_thumbnails" override_thumbnail_settings="1″ thumbnail_width="240″ thumbnail_height="160″ thumbnail_crop="0″ images_per_page="20″ number_of_columns="0″ ajax_pagination="0″ show_all_in_lightbox="0″ use_imagebrowser_effect="0″ show_slideshow_link="0″ slideshow_link_text="[Show slideshow]" order_by="sortorder" order_direction="ASC" returns="included" maximum_entity_count="500″]
Products
Sid & Marty Kroffts Saturday Morning Hits
Sold by: Amazon.com
Purchase
Search
Bios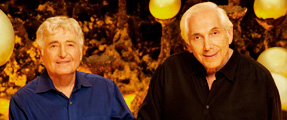 Many of the most colorful and fondly remembered children's series of the 1970s and 1980s sprang from the imaginations of Sid and Marty Krofft. Their groundbreaking, live-action fantasy shows were...
Read More
Awards
Music City News

Barbara Mandrell, Program of the Year, 1981

Action for Children's Television

Pryor's Place for Achievement in Children's Television, 1985

Youth In Film

Lifetime Achievement Award, 1992
History
It all started when Sid & Marty Krofft's father Peter Krofft, discovered seven-year-old Sid (born July 30, 1929) had puppeteering talent and auditioned him in his own production of "Snow...
Read More