Description
Three teenagers crash-land their small plane on Dr. Shrinker's uncharted island.
The diabolical scientist has created a "shrinking ray" that he uses to shrink the teenagers. Now with proof that the machine works on humans he can sell it…and them to the highest bidder – unless the shrunken teenagers can stop him.
Dr. Shrinker was played by Jay Robinson who is probably best remembered for his outstanding performance as the despicable Caligula in The Robe.
His assistant Hugo was played by the great little person Billy Barty.
Video
Search
Bios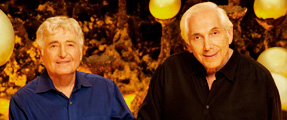 Many of the most colorful and fondly remembered children's series of the 1970s and 1980s sprang from the imaginations of Sid and Marty Krofft. Their groundbreaking, live-action fantasy shows were...
Read More
Awards
Music City News

Barbara Mandrell, Program of the Year, 1981

Action for Children's Television

Pryor's Place for Achievement in Children's Television, 1985

Youth In Film

Lifetime Achievement Award, 1992
History
It all started when Sid & Marty Krofft's father Peter Krofft, discovered seven-year-old Sid (born July 30, 1929) had puppeteering talent and auditioned him in his own production of "Snow...
Read More