Description
Each episode opened with Marie singing, "I'm a little bit Country", and brother Donny answering, "And I'm a little bit Rock,n Rock".
Sid & Marty Krofft created this popular variety show for the Osmonds replete with ice rink, dancers, and the signature and entertaining sibling rivalry that endeared this series to the North American TV audience.
Search
Bios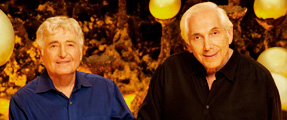 Many of the most colorful and fondly remembered children's series of the 1970s and 1980s sprang from the imaginations of Sid and Marty Krofft. Their groundbreaking, live-action fantasy shows were...
Read More
Awards
Music City News

Barbara Mandrell, Program of the Year, 1981

Action for Children's Television

Pryor's Place for Achievement in Children's Television, 1985

Youth In Film

Lifetime Achievement Award, 1992
History
It all started when Sid & Marty Krofft's father Peter Krofft, discovered seven-year-old Sid (born July 30, 1929) had puppeteering talent and auditioned him in his own production of "Snow...
Read More