There are some that blame the decline of Saturday morning television on the rise in popularity of live action series such as "Saved By The Bell" – those people are very much wrong. I remember watching "H.R. Pufnstuf" on Saturday morning when I was young. As a matter of fact, it is one of the first Saturday morning series I remember watching. After working on "Banana Splits" Sid & Marty Krofft got a deal to create a series, and came up with the idea of a boy trapped in a magical land. So magical, in fact, everything could talk (Still think Pee Wee Herman is original?). Only two of the actors were actual people, with all the other characters brought to life through the use of puppetry or big costumes. The show was such a hit Sid & Marty Krofft created a string of television series that would wind up ruling 70s Saturday mornings ("Sigmund and the Sea Monsters", "Land of the Lost" and so much more).
And so we get the whole of the series that really started it all for Sid & Marty Krofft, "H.R. Pufnstuf". It is, however, not where they started in television (having produced a few pilots, specials and work on other television programs) but "H.R. Pufnstuf" was completely their vision. There was nothing like it at the time, a magical world full of whimsy and color. And there was a real live kid in the center of all this action.
Jimmy takes a small boat ride, but winds up shipwrecked on Living Island. He is befriended by the mayor, H.R. Pufnstuf, and is given shelter from Witchypoo. Turns out the boat was one of hers, and she is trying to get Jimmy's magical flute, which not only has a name (Freddy) but also talks. The plots fall under two categories, Jimmy attempting to get back home, or Witchypoo attempting to get Freddy. The (perhaps overly) complicated setup was given the run down during the show's opening credits, freeing the series to be completely made of self-contained episodes.
Only two live actors were showcased in the series. Billie Hayes was Witchypoo, equal parts menacing and ludicrous. She actually proved to be one of the more memorable aspects of the show, with her portrayal being something to enjoy. She simply chewed up the scenery just about every time she was on screen. Jack Wild portrayed Jimmy, and was alright, but perhaps it was the way he was written the character lacked excitement. Sure, he had a lot of common sense and helped out the citizens of Living Island, but as a character, he wasn't as memorable as he should be, or as compelling a protagonist.
It is the world of Living Island, however, that is the star. Even in today's world of realistic computer graphics, the "simple" charm of puppetry, costumes and intricate set dressing. Very much a creation of its time (1969) the world really does have a timeless charm that works even to this day. Despite the use of a laugh track, "H.R. Pufnstuf" holds up very well, especially for young audiences.
Now on DVD we get the whole of the series, which is simply 17 episodes. Those episodes were rebroadcast over and over and over for the next several years, which is a shame, but such was Saturday morning programming. Wait, wasn't this series already released on DVD before? Turns out it was. A quick search turned up a DVD set that features not only all 17 episodes, but for special features a host of interviews with creators Sid & Marty Krofft, stars Billie Hayes and Jack Wild, and more. Those items are gone, and it their place we get a segment of "Horror Hotel" from the "Krofft SuperStar Hour" which simply goes to show how much a box set of all the various Krofft programs is needed. We also get a vintage 3-in-1 book on the disc to download. It has pictures from the show, lyrics and tabulature for some of the series' songs and a few coloring pages. It's nice, but doesn't replace the interviews. Also, the way it is listed on the back of the case it sounded as if there was music from the series and a coloring book to download. I was rather disappointed when I opened up the files and there were no MP3s.
Despite the misstep with regards to special features, "H.R. Pufnstuf" is still enjoyable and this DVD set of the complete series is a nice way to relive those childhood memories and introduce a new audience to the world of Sid & Marty Krofft.
Go Back
Search
Bios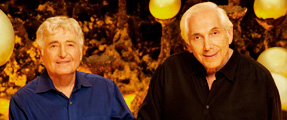 Many of the most colorful and fondly remembered children's series of the 1970s and 1980s sprang from the imaginations of Sid and Marty Krofft. Their groundbreaking, live-action fantasy shows were...
Read More
Awards
Music City News

Barbara Mandrell, Program of the Year, 1981

Action for Children's Television

Pryor's Place for Achievement in Children's Television, 1985

Youth In Film

Lifetime Achievement Award, 1992
History
It all started when Sid & Marty Krofft's father Peter Krofft, discovered seven-year-old Sid (born July 30, 1929) had puppeteering talent and auditioned him in his own production of "Snow...
Read More