Legendary entertainment visionaries T Bone Burnett and Sid & Marty Krofft are teaming up to produce an update of the Kroffts' The Bugaloos television series, focusing on a young country pop music group. Burnett is the 12-time Grammy and Oscar-winning music producer behind countless best-selling and critically acclaimed albums, including the multi-platinum soundtrack to the Johnny cash biopic Walk The Line and the recent smash soundtrack to the Academy Award-winning film Crazy Heart (which he also produced) and many more.

Go Back
Search
Bios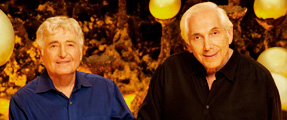 Many of the most colorful and fondly remembered children's series of the 1970s and 1980s sprang from the imaginations of Sid and Marty Krofft. Their groundbreaking, live-action fantasy shows were...
Read More
Awards
Music City News

Barbara Mandrell, Program of the Year, 1981

Action for Children's Television

Pryor's Place for Achievement in Children's Television, 1985

Youth In Film

Lifetime Achievement Award, 1992
History
It all started when Sid & Marty Krofft's father Peter Krofft, discovered seven-year-old Sid (born July 30, 1929) had puppeteering talent and auditioned him in his own production of "Snow...
Read More