A year after she qualified for the 2016 Olympics, Spring gymnast Simone Biles returns to your television screen with two appearances on Nickelodeon shows this weekend.
Biles, 20, will appear on the preschool series "Mutt & Stuff" at 8:30 a.m. Friday. She portrays herself in an episode titled "Doggy Gymnastics."
Biles, who won four Olympic gold medals and a bronze medal at the 2016 Rio Games, also will appear at 7 p.m. Sunday on Nickelodeon's "Kid's Choice Sports 2017" awards show. She is nominated for favorite female athlete.
See Original Article: http://www.chron.com/sports/article/Simone-Biles-to-appear-on-pair-of-Nickelodeon-11281695.php#photo-13220356
Go Back
Search
Bios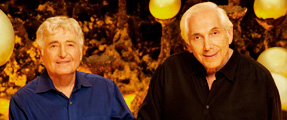 Many of the most colorful and fondly remembered children's series of the 1970s and 1980s sprang from the imaginations of Sid and Marty Krofft. Their groundbreaking, live-action fantasy shows were...
Read More
Awards
Music City News

Barbara Mandrell, Program of the Year, 1981

Action for Children's Television

Pryor's Place for Achievement in Children's Television, 1985

Youth In Film

Lifetime Achievement Award, 1992
History
It all started when Sid & Marty Krofft's father Peter Krofft, discovered seven-year-old Sid (born July 30, 1929) had puppeteering talent and auditioned him in his own production of "Snow...
Read More