All you poor young puppet/muppet deprived youngsters need to get educated. Now that Sid and Marty Krofft have the rights back to their own stuff new generations will finally be able to enjoy H.R.Pufnstuf, Sigmund and The Sea Monsters, The Bugaloos, and Lidsville. These were Saturday morning TV shows that mixed a human cast with giant felt characters and the corniest jokes you could imagine. The Kroffts also produced live action shows like Dr. Shrinker, Bigfoot and Wildboy, Electro Woman and Dyna Girl, Far Out Space Nuts and Wonderbug. While Land of the Lost has been available for some times, these other programs have been very hard to find. Anyone that grew up watching them will rejoice.
First airing in 1973 Sigmund and the Sea Monsters told the story of Sigmund, an outcast Sea Monster thrown out of his family for being to nice. He finds himself adopted by two beach comber kids who hide them in their backyard clubhouse. Besides Billy Barty, who played Sigmund and was one of the most beloved little people in the history of Hollywood the show also showcased famed child actor Johnny Whitaker whose credits included TV shows like Family Affair and a lead role in the 1973 motion picture musical Tom Sawyer. Other performers regularly used on the show offer a smorgasbord of TV and motion picture credits. Look up these names on IMDB; Mary Wickes, Rip Torn, Pamelyn Ferdin, Margaret Hamilton, and Fran Ryan. You will have a blast going through their innumerable credits and remembering where you first saw them (provided you don't need an education you young whippersnapper).
This three disc set contains the entirety of Season One which is 17 whopping episodes of the shows 29 episode run. There are also commentaries with Whitaker and co-star Scott Kolden, a downloadable folder of mp3's of all Whitaker's many songs on the show and a featurette showcasing the H.R.Pufnstuf American Cinematheque from November 2010.
Go Back
Search
Bios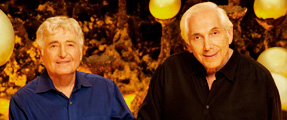 Many of the most colorful and fondly remembered children's series of the 1970s and 1980s sprang from the imaginations of Sid and Marty Krofft. Their groundbreaking, live-action fantasy shows were...
Read More
Awards
Music City News

Barbara Mandrell, Program of the Year, 1981

Action for Children's Television

Pryor's Place for Achievement in Children's Television, 1985

Youth In Film

Lifetime Achievement Award, 1992
History
It all started when Sid & Marty Krofft's father Peter Krofft, discovered seven-year-old Sid (born July 30, 1929) had puppeteering talent and auditioned him in his own production of "Snow...
Read More