Sid & Marty Krofft greeted fans and signed autographs at the Hollywood Show in Burbank on October 1, 2011. Some of the fans were curious about the Krofft's short-lived amusement park in Atlanta and Sid & Marty filled in some of the details. In 1976, the Omni Hotel in Downtown Atlanta where the park was located was not the safe place it is today. It had a reputation of being a "bad" area, so the park didn't get the crowds they needed to succeed. But times have changed, and now the place where the World of Sid & Marty Krofft was, is now the home of CNN. The building still has the world's longest free-standing escalator, which at eight stories, some park-goers thought was the scariest ride at the park.
They were scheduled to appear on Saturday only, but so many fans were excited to see Sid for the first time at one of these shows that the brothers Krofft made a surprise visit on Sunday. The show was less crowded and Sid regaled them with stories of his years with the Ringling Bros. Circus where he was billed as "The World's Youngest Puppeteer". He found the circus a hard life, especially for him as a 16-year-old away from his family for so long. But now he values the lessons he learned and unique experiences he had under the "big top". (The Kroffts made a TV movie loosely based on Sid's circus experiences called "Sideshow".)
Marty also told of his experiences growing up in Brooklyn and at 14 worked at deli near Yankee Stadium and made sandwiches for Yankees team members, including Joe DiMaggio. (He had a collection of baseballs the Yankee greats had signed, but his mother accidently threw them all out.) While Sid was in the circus and then performing in Europe, Marty started performing with Sid's left-behind puppets and sometimes even billed himself as "Sid Krofft".
Go Back
Search
Bios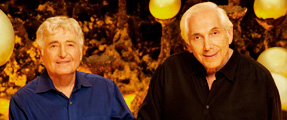 Many of the most colorful and fondly remembered children's series of the 1970s and 1980s sprang from the imaginations of Sid and Marty Krofft. Their groundbreaking, live-action fantasy shows were...
Read More
Awards
Music City News

Barbara Mandrell, Program of the Year, 1981

Action for Children's Television

Pryor's Place for Achievement in Children's Television, 1985

Youth In Film

Lifetime Achievement Award, 1992
History
It all started when Sid & Marty Krofft's father Peter Krofft, discovered seven-year-old Sid (born July 30, 1929) had puppeteering talent and auditioned him in his own production of "Snow...
Read More