Sid and Marty Krofft have come to Comic-Con for years and yet there's still a little bit of a performer's opening night fears as they wait in the wings to come onstage for a panel, the brothers say.
"I'm really surprised that there are so many people here to see us," says Sid Krofft, at 81 the older brother. "I always think that we're going to walk out and nobody's going to be there — who would remember us after 40 years?"

But just mention the names of some of the iconic late '60s and '70s TV series they created – "H.R. Pufnstuf,""The Bugaloos," "Land of the Lost," and "Lidsville," to name a few — and watch people's eyes light up with memories. Or listen to Sid describe one woman at the panel he and Marty did on Friday morning here.

"She said, 'I have children and I grew up with all of your shows, and I want to thank you,'" Sid Krofft says, describing how the woman started crying, overcome, midway through her comments. "She said, 'There's nothing out there for kids that's so pure.'"

There's also little out there that's so over-the-top wild, with giant puppets, bright colors, and sometimes what-were-they-on-when-they-came-up-with-THAT? craziness?
"H.R. Pufnstuf" and "Lidsville" both air on KCET-TV on weekend mornings, and we mentioned to the Krofft brothers how wild "Lidsville" in particular looks today.
"It's insane, isn't it?" Sid says of the show that featured people inside giant hat costumes. "And I was on nothing — that's always a question at Comic-Con, what were you doing?"
So where'd the inspiration come from ? "The beach," Marty says, then letting Sid explain how his lunch time runs on the beach cleared his mind so that the really wild stuff could come to the surface.

"I'd go back to the art department (after a run) and tell them what I was thinking about," Sid Krofft says. "For'Sigmund & the Sea Monsters' (the first season of which comes out on DVD in September), I found this huge, huge piece of seaweed, and it was just moving and getting bigger and bigger."

That story makes model and actress Angie Everhart start to giggle, picturing Sid on the sand with the seaweed. A big fan of their shows, she ended up meeting Marty Krofft in Hollywood after an audition on the same lot where they're located. One thing led to another and she wound up the host of the Comic-Con panel on Friday.

Despite many of their shows having aired years ago, the brothers are still quite busy. In addition to the "Sigmund" DVDs, they're working with Dreamworks to create a movie version of "Lidsville" and they're developing a new version of "The Bugaloos" with acclaimed producer and musician T. Bone Burnett.
"It's a combination like the Jonas Brothers and Miley Cyrus," Sid says of the concept for the new cast of that show. "The band will be incredible, and we're doing it as country pop which nobody's done before."
Go Back
Search
Bios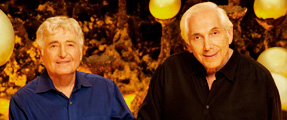 Many of the most colorful and fondly remembered children's series of the 1970s and 1980s sprang from the imaginations of Sid and Marty Krofft. Their groundbreaking, live-action fantasy shows were...
Read More
Awards
Music City News

Barbara Mandrell, Program of the Year, 1981

Action for Children's Television

Pryor's Place for Achievement in Children's Television, 1985

Youth In Film

Lifetime Achievement Award, 1992
History
It all started when Sid & Marty Krofft's father Peter Krofft, discovered seven-year-old Sid (born July 30, 1929) had puppeteering talent and auditioned him in his own production of "Snow...
Read More