Mutt & Stuff is the latest kids show we here at Krofft have produced, this time for Nick Jr..  In the first season Calvin (Calvin Millan) the head of the Mutt & Stuff dog preschool has had 40 adventures and 40 episodes, and now we are starting the second season with 20 more episodes.
If you haven't seen the show, Cesar Millan who was the dog whisperer turns the school over to his son Calvin who teaches a cast of approximately 15 dogs with help from his best friend Stuff, a big loveable talking dog.
The canine star of" Mutt & Stuff" is Zippy, who is a very remarkable dog.
Fans have sent in pictures of their dogs watching the show, even when their humans have left the room.
Go Back
Search
Bios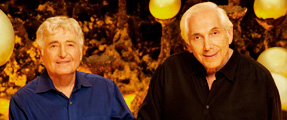 Many of the most colorful and fondly remembered children's series of the 1970s and 1980s sprang from the imaginations of Sid and Marty Krofft. Their groundbreaking, live-action fantasy shows were...
Read More
Awards
Music City News

Barbara Mandrell, Program of the Year, 1981

Action for Children's Television

Pryor's Place for Achievement in Children's Television, 1985

Youth In Film

Lifetime Achievement Award, 1992
History
It all started when Sid & Marty Krofft's father Peter Krofft, discovered seven-year-old Sid (born July 30, 1929) had puppeteering talent and auditioned him in his own production of "Snow...
Read More