November 7th, Marty Krofft was named one of the key note speakers at the upcoming 2018 Kidscreen Summit. Kidscreen Summit is renowned as the kids entertainment industry's most important annual event. In 2017, the conference welcomed nearly 2,000 attendees from more than 50 countries. Top executives attend Kidscreen Summit to take advantage of the year's best business networking, and to engage in critical dialogue on issues that affect the industry.
Titled, "In Conversation with Marty Krofft: Kids Entertainment Legend", the segment will recount Sid & Marty's big return to television back in 2015, starting with "Mutt & Stuff" (Nickelodeon), to the more recent "Sigmund & the Sea Monsters" (Amazon Studios), and now the upcoming "Mayim's Wonderlab" starring "Big Bang Theory's" Mayim Bialik. Marty will share his lifetime of experience with attendees, delving into the development process, how the business has changed and the secrets to keeping kids watching.
For latest news and event information visit Kidscreen homepage: http://summit.kidscreen.com/2018/
Go Back
Search
Bios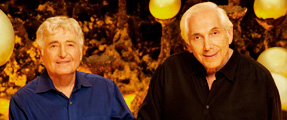 Many of the most colorful and fondly remembered children's series of the 1970s and 1980s sprang from the imaginations of Sid and Marty Krofft. Their groundbreaking, live-action fantasy shows were...
Read More
Awards
Music City News

Barbara Mandrell, Program of the Year, 1981

Action for Children's Television

Pryor's Place for Achievement in Children's Television, 1985

Youth In Film

Lifetime Achievement Award, 1992
History
It all started when Sid & Marty Krofft's father Peter Krofft, discovered seven-year-old Sid (born July 30, 1929) had puppeteering talent and auditioned him in his own production of "Snow...
Read More