It was the start of the fall television season in 1969 when children were first pulled into The World Of Sid & Marty Krofft. For over a decade, their shows would rule the live-action corner of Saturday morning television. These weren't just shows with live actors — these shows existed within lands that were full of bright colors, oversized puppets, talking animals, and objects and most importantly, where good was always good and evil wasn't so scary. Their first show, H.R. Pufnstuf, was their first show and it's often the one that is thought of when the Krofft name is invoked.
H.R. Pufnstuf – The Complete Series is being released again this month from Vivendi Entertainment. There was a Complete Series a few years ago that was a bit more expensive with more commentaries. This scaled back version is very affordable and looks great (especially for those of us who watched the series originally on B&W televisions). The series lasted for two seasons and contains 17 episodes.
This initial foray into episodic children's television for Sid & Marty Krofft set the template that they would use for the rest of the 1970s. The basics of the story is told in an extended title sequence. Telling your backstory in the intro means that in less than two minutes any child could watch any episode and know exactly who was who and what type of story was to be told. Familiarity and comfort are important in shows aimed at children and this show showed exactly how to accomplish that.
The title sequence starts with the most important words, "Who's your friend when things get rough?" Right off the bat, before we know anything else, we know that H.R. Pufnstuf is our friend and that he'll look after us. Next we see our hero, Jimmy (11) without parents, running down a mountain at Big Bear in California playing a magical, golden flute. Not the best parenting move, but don't worry about that. Jimmy is tempted to hop in a beautiful but slightly unstable boat with the sail saying "Living Island." But there's a witch watching from the skies in her broom who wants to steal the magical flute. She turns the boat black and summons a powerful storm. Just as things have turned a little scary and Jimmy is thrown from the boat — Pufnstuf is watching and hops in the Rescue Racer to go save Jimmy. Both Pufnstuf and the witch race to get Jimmy but Pufnstuf arrives first and saves him. That first two minutes of every show sets an important stage — we know the players and what led them to this point.
The concept of a child being pulled into another world would be used throughout The World Of Sid & Marty Krofft: "Lidsville," "Sigmund & The Sea Monster," and "Land Of The Lost" all used the concept of "another world" to a certain point. The story borrows from familiar sources that help ground the ideas of good and bad. The Wizard Of Oz comparisons are worthy — the boat, like the tornado, transport Jimmy to the other world. He is looked after by Pufnstuf, equal parts Good Witch and Great Wizard Of Oz, and chased by Witchiepoo, playing a less sinister Wicked Witch Of The West, who is looking to steal Jimmy's flute (a nice stand-in for the ruby slippers). Like the original, plots often revolve around Jimmy having to sneak into the witch's castle. This familiarity makes the show instantly likable to children who can view it as a kind of extension of that universe.
Stand out episodes . . .
"Mechanical Boy": The fourth episode is typical of how child star, Jack Wild, playing Jimmy was going to be used initially. Jimmy is caught by Witchiepoo before he's able to steal her boat to escape the island. Witchiepoo turns him into a mechanical boy — a robot — in order to bring the magic flute, Frreddy to her. The whole first third of the episode is a set up for two big pieces at the end. First, using Jack's performing talents, the mechanical boy plot is an excuse for his song and dance to a song entitled "Mechanical Boy" that includes a revolutionary Robot Dance. Second, the breakdown in the plan takes advantage of the physical comedy skills of Billie Hayes as Witchiepoo. As she looks for Freddy in Dr. Blinky's house – the furniture and props come to life causing her lots of physical distress. I really like the balance here better than most of the episodes. There's a nice escape plot with some actual suspense, there's plenty of physical humor (including some great Kling and Klang pantomine) and the song and dance feels much more organic to the plot of the episode.
"The Stand In": The fifth episode might be the best of them all. Pufnstuf's sister, Shirley is coming to Living Island to make a movie. Pufnstuf hatches a plan to put Witchiepoo in the film to distract her while Jimmy and Freddie go steal her Vroom Broom. The episode moves at a quick pace and the comedy is quick – much in the style of "Laugh In" or "The Monkees". Witchiepoo is great as the movie star want to be that gets knocked around as a stand in. And Jimmy gets to dress up as Witchiepoo – which leads to great jokes with Witchiepoo's sidekicks – Orson and Seymour. The final battle is as close to special effects as the series gets with both Witchiepoos battling with wands and magic. Future episodes would find it easy to play up the humor side of the characters but it would become harder and harder to maintain that suspense that Jimmy might actually be able to go home.
"Dinner For Two": This is easily the best episode of the second season. Grandfather Clock has fixed his Time Machine and can send Jimmy and Freddie back to before they came to Living Island. As Jimmy and Freddie enter the Time Machine, we see back at the castle, a sad Witchiepoo singing "The Loneliest Witch In Town". She halfheartedly waves her wand at the Time Machine. When Jimmy and Freddie exit the machine – they've aged. They meet up with Witchiepoo who doesn't recognize them, nor do they remember where they had been. Witchiepoo falls in love and plans to marry Jimmy. But it's Pufnstuf who has to come to the rescue – eventually turning Jimmy back to a 12 year old and leaving Witchiepoo in an even worse state. The episode works because it deviates from the expected stories but still gives the group a chance to get back home. It's nice to see the lonely side of Witchiepoo and since she never really does evil – it's fun to feel for her for an episode – and in the end, she's still the butt of the final joke.
This three disc set is not loaded with extras. There is an episode of "Horror Hotel" — this one with the cast of multiple Krofft shows — Witchiepoo, Dr. Shrinker and a Charles Nelson Reilly soundalike playing Hoodoo. It's a fun short that ran as part of "The Krofft Supershow" AKA "The Bay City Rollers Show" along with "Lost Island." I'd love to see a full release of these shows – if you really want to capture the Saturday morning feel of 1978. There are also downloadable music and a Pufnstuf coloring book. There's a Collector's Edition available that comes with a Pufnstuf bobblehead that would probably look good on anyone's desk.
Does the series hold up to today's programming? It depends on your frame of reference. The stories and simple and there isn't real danger involved. The humor is broad – but so was shows I mentioned like "The Monkees" and "Laugh-In". It is going to hold up well for anyone who's a fan of Pee Wee's Playhouse." Like "Gilligan's Island" the show thrives when there's a serious attempt to leave the island. Episodes that deviate from that basic plot point lose steam quickly in 30 minutes. For me, a trip to Living Island, is a trip to a world huddled in front of a TV on a Saturday morning when my world seemed just as bright as that of Sid & Marty Krofft.
Go Back
Search
Bios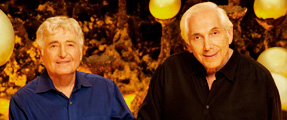 Many of the most colorful and fondly remembered children's series of the 1970s and 1980s sprang from the imaginations of Sid and Marty Krofft. Their groundbreaking, live-action fantasy shows were...
Read More
Awards
Music City News

Barbara Mandrell, Program of the Year, 1981

Action for Children's Television

Pryor's Place for Achievement in Children's Television, 1985

Youth In Film

Lifetime Achievement Award, 1992
History
It all started when Sid & Marty Krofft's father Peter Krofft, discovered seven-year-old Sid (born July 30, 1929) had puppeteering talent and auditioned him in his own production of "Snow...
Read More