MOVIE MOBSTERS – September 19, 2011.
Wow, where to begin with H.R. Pufnstuf? Created by Sid and Marty Kroft, who were also responsible for the equally odd Sigmund and the Sea Monsters and previous remake victim, Land of the Lost, Pufnstuf is clearly a product of its' time period, the late 60s. There's a plot there right? Sure, somewhere, and if you are a child with a thing for mescaline or LSD, it all may make perfect sense. There's a magic talking flute named Freddy, a six foot dragon that is the titular character and a witch named Witchie-Poo. All of this is so surreally designed that it feels just like a fever dream brought on by a bad roast-beef sandwich eaten too close to bedtime. If there's to be a remake, we need someone who can just cut loose and make all of that weirdness come alive up on screen. Forget the usual suspects, go scour the world of tv commercials, music videos and homeless street art and get us a Pufnstuf director. All of this trippiness will no doubt look super-wicked in 3D.
Go Back
Search
Bios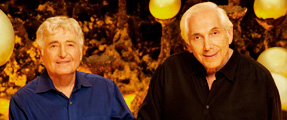 Many of the most colorful and fondly remembered children's series of the 1970s and 1980s sprang from the imaginations of Sid and Marty Krofft. Their groundbreaking, live-action fantasy shows were...
Read More
Awards
Music City News

Barbara Mandrell, Program of the Year, 1981

Action for Children's Television

Pryor's Place for Achievement in Children's Television, 1985

Youth In Film

Lifetime Achievement Award, 1992
History
It all started when Sid & Marty Krofft's father Peter Krofft, discovered seven-year-old Sid (born July 30, 1929) had puppeteering talent and auditioned him in his own production of "Snow...
Read More