The comic actor's shows and Sid and Marty Krofft's series, being released on video box sets this month, remind us that mad genius and wild creativity can work on TV.
At any given time, most things on television resemble other things on television, sharing narrative conventions and visual conceptions, techniques and technologies, even ways of treating and reflecting their audience. But there are always a few black sheep about, horses of a different color – artists who work against the system even as they operate within it and out of whatever combination of intention or helplessness create their own unaccountable realities.
Two such other worlds get box-set video releases this month: "The Ernie Kovacs Collection" (Shout Factory, due April 19), a well-chosen, six-disc overview of what survives of Kovacs' TV career, from his early '50s NBC morning show to his early '60s ABC specials, and "H.R. Pufnstuf: The Complete Series" (Vivendi, April 12), Sid and Marty Krofft's dawn-of-the-'70s Saturday-morning musical-fantasy sitcom about a boy, a witch and a dragon.
Even in his short lifetime — he was killed in an automobile accident in 1962, days before his 43rd birthday — Kovacs was hailed as a mad genius and poet of the small screen, and as such he was both celebrated and marginal: never really successful but never out of work for long. He had shows on every network, in every hour. As their star, writer, producer and eventually co-director, he was as much an auteur as TV has produced and possibly the first person in television to really explore it — not to make fun of what TV showed, which he also did — but to mess with the medium itself, to pick it apart and reassemble it inside out, with the tubes and wires showing. He was a video artist before artists got around to making video — it is not a far leap from late Kovacs, with its deadpan visual punning, to Bruce Nauman or William Wegman.
He worked in many modes. Early on, there are skits and comic monologues and puppets. As he develops, verbal comedy gives way to visual, until he's making shows with no talk at all. Water bursts through a painting of a dam. A light drawn on a wall shines real light. A giggling Mona Lisa is revealed to have a body extending beneath the frame, whose toes are being licked by a cat; household objects are orchestrated like dancers, dancers in gorilla suits perform "Swan Lake."
Original post: link
Go Back
Search
Bios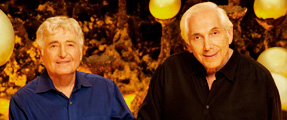 Many of the most colorful and fondly remembered children's series of the 1970s and 1980s sprang from the imaginations of Sid and Marty Krofft. Their groundbreaking, live-action fantasy shows were...
Read More
Awards
Music City News

Barbara Mandrell, Program of the Year, 1981

Action for Children's Television

Pryor's Place for Achievement in Children's Television, 1985

Youth In Film

Lifetime Achievement Award, 1992
History
It all started when Sid & Marty Krofft's father Peter Krofft, discovered seven-year-old Sid (born July 30, 1929) had puppeteering talent and auditioned him in his own production of "Snow...
Read More