Mario Della Casa is introducing a collector's Freddy the Flute from the classic Krofft TV series "H.R. Pufnstuf". The American made flute is made from brass and is jewel-encrusted. It comes in a luxurious black display case that can stand vertically. He is the only person licensed by the Kroffts to make these flutes.
Mr. Della Casa has just returned from touring Australia with Barbara Eden to promote his collectable "I Dream of Jeannie" genie bottles and received great enthusiasm from fans when he gave them a sneak peek at Freddy Flute.
The amazing thing was Mr. Della Casa had never seen the "H.R. Pufnstuf" TV Series, but when he saw a picture of Freddy Flute he simply had to make it.
Word is they will be for sale as early as May 2013. Check back for updates.
Mr. Della Casa is well known in the collectables world because he has been making the iconic 1960s "I Dream of Jeannie" genie bottles for the past 30 years. The attention to detail in the genie bottles is amazing. He even decorates the inside of the bottle and you can actually see Jeannie sitting on her sofa.
Go Back
Search
Bios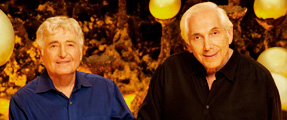 Many of the most colorful and fondly remembered children's series of the 1970s and 1980s sprang from the imaginations of Sid and Marty Krofft. Their groundbreaking, live-action fantasy shows were...
Read More
Awards
Music City News

Barbara Mandrell, Program of the Year, 1981

Action for Children's Television

Pryor's Place for Achievement in Children's Television, 1985

Youth In Film

Lifetime Achievement Award, 1992
History
It all started when Sid & Marty Krofft's father Peter Krofft, discovered seven-year-old Sid (born July 30, 1929) had puppeteering talent and auditioned him in his own production of "Snow...
Read More