It all started when Sid & Marty...
It all started when Sid & Marty Krofft's father Peter Krofft, discovered seven-year-old Sid (born July 30, 1929) had puppeteering talent and auditioned him in his own production of "Snow White".  Peter put all of his efforts into training and promoting Sid.  By the time he was a teenager Sid was a show business veteran, able to strike out on his own and join the Ringling Brothers Circus sideshow.  He was billed as "the world's youngest puppeteer".  After a year he moved on and soon was touring the world, opening for the likes of Judy Garland and Liberace.  But Sid wanted to be more than just an opening act.  He wanted big, fantastic puppet shows.
Enter Marty (born April 9, 1937).  He had been working puppets off and on with Sid for years, but in the meantime had been gaining experience in the business world.  They realized that for what they wanted to do, for Sid's vision, they needed a company of their own. Their vision was to take puppets out of realm of strictly children's entertainment and build a slightly risqué adult-oriented puppet show called "Les Poupees De Paris", loosely based on the cabarets of Paris.   It was a success!  The show traveled throughout the United States — from the Seattle World's Fair, to New York City playing to an estimated nine million people from sea to shining sea.
They also built puppet shows for family enjoyment for Six Flags parks all over the country.  By that time the Kroffts had developed a remarkable puppet, costume and set-building shop.  Hanna Barbara approached the Kroffts to build the "Banana Splits" walk-around costumes for their NBC show. In 1969 the Kroffts were approached by NBC to create their own Saturday Morning Children's Series. They picked HR Pufnstuf, by far the fans' favorite character from their live shows. Its success spawned a feature film produced with Universal Pictures as a partner and distributor.
"Its success spawned a feature film produced with Universal Pictures as a partner and distributor."
Their second television series was The Bugaloos for NBC, followed by Lidsville for ABC in 1971. A prime-time all-star television special called Fol De Rol(ABC),  a Renaissance Pleasure Fair with a touch of the magic of the early 1970's.  Sigmund & The Sea Monsters starring Johnny Whitaker became an NBC series in 1973.  And in 1974 there was Land of the Lost for NBC. Then came Far Out Space Nuts for CBS, Lost Saucer for ABC, The Krofft Supershow for ABC, The Krofft Supershow Hour for NBC, The Bay City Rollers Show for NBC, Wonderbug and Bigfoot & Wildboy for ABC. The Kroffts then created and produced the first two years of the Donny & Marie Show, the Brady Bunch Variety Hour for ABC, Bobby Vinton's Rock 'n' Rollers for CBS, the variety series Pink Lady & Jeff, Anson & Lorrie and The Barbara Mandrell & The Mandrell Sisters series for NBC.
The Kroffts produced Sideshow a TV movie for NBC in 1978, loosely based on Sid's experience in the circus. And two more theatrical motion pictures; the first was Middle Age Crazy, which starred Ann Margaret and Bruce Dern, released by 20th Century Fox in 1980.  The second, Harry Tracy, The Last Desperado starring Bruce Dern and Gordon Lightfoot was released in 1983.
In 1984, the Kroffts created and produced Pryor's Place, an award-winning CBS television series starring Richard Pryor based on his childhood.  They also created and produced a Special for NBC called The Patti LaBelle Show with guest stars Bill Cosby, Cyndi Lauper, Amy Grant and Luther Vandross.  The LaBelle show aired on November 28, 1985.
In the late '80's, the Kroffts created and produced D.C. Follies, featuring a cast of life-size puppets ranging from 'Richard Nixon' to 'Arnold Schwarzenegger', with outrageous political and current events satire. D.C. Follies ran for two seasons, prematurely ending with a writers strike.
Following a Special for CBS with hot acts performing at a fictitious night club called Red Eye Express in 1988, the Kroffts produced a series of live shows entitled Comedy Kings for the Sands Hotel and Casino, Las Vegas, in 1989 and 1990.  In April of 1991, the Kroffts produced Krofft Late Night, a one-hour comedy special for ABC, featuring Leslie Nielsen and the Krofft puppets.  In September of 1991, Land of the Lost debuted on ABC with all new episodes of this live-action adventure series.
Nick at Nite Classic TV recently honored the Kroffts by airing Puf-A-Palooza that brought back classic episodes of some of the Kroffts' most beloved shows such as H.R. Pufnstuf, the original Land of the Lost, The Bugaloos, Sigmund and the Sea Monsters, and Dr. Shrinker to name a few.  It was a smash, making Puf-A-Palooza one of the highest rated specials ever to air on Nick- at-Nite.
In addition the classic Krofft shows H. R. Pufnstuf, Sigmund and the Sea Monsters, Far Out Space Nuts, and The Bugaloos all aired weekends on The Family Channel during the winter and spring of 1997 and aired on TV Land last year.
The Kroffts also created "The Okee Dokee Show", a series of 150 interstitials that ran on The Family Channel featuring a pair of not too bright puppets that come to life after the humans go home.
The Kroffts centered their operation in Los Angeles, opening their show business 'Factory' in the early 60's in the San Fernando Valley, where props, costumes, sets, road show stages and puppets were designed and built for Krofft projects as well as others in the industry.  TV sets included the "All in the Family" set built just for the pilot, but ended being used for two seasons.  They also built road-show stages for top acts like Earth Wind & Fire. The Kroffts built 25-foot high puppets of the mega pop group *NSYNC for the January 2000 American Music Awards.
Search
Bios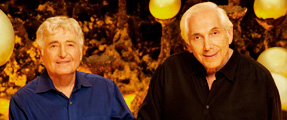 Many of the most colorful and fondly remembered children's series of the 1970s and 1980s sprang from the imaginations of Sid and Marty Krofft. Their groundbreaking, live-action fantasy shows were...
Read More
Awards
Music City News

Barbara Mandrell, Program of the Year, 1981

Action for Children's Television

Pryor's Place for Achievement in Children's Television, 1985

Youth In Film

Lifetime Achievement Award, 1992