Description
The Japanese singing phenomenon Pink Lady was introduced to the American TV audience with this Variety Show. NBC cancelled the series after only six episodes.
Stars: Mie and Kei
Comedian Jeff Altman officiated.
The Krofft Comedy Players were: Jim Varney ("Hey Vern!" guy), Anna Mathias and Sherry Eaken
Guests included Sid Caesar, Debra Harry (Blondie), Hugh Hefner and playmates, Sherman Hemsley, Bert Parks, Donny Osmond, Teddy Pendergrass, Larry Hagman, Greg Evigan, Cheap Trick, Florence Henderson, Lorne Greene, Red Buttons, Alice Cooper, Jerry Lewis, Bobby Vinton, Byron Allen, and Roy Orbison
Trivia
The best skit in the series has the girls getting ready for a double date. When their dates arrive the girl's strict papa, played by Sid Caesar, is busily sharpening his samurai sword on a grinding wheel. What the guys don't know is they are going to their own weddings later that evening!
Mie and Kei had to learn their English dialogue phonetically – a daunting task to make it sound natural. But trying to do comedy phonetically and get the timing right is even tougher. On top of that Mie and Kei had to commute across the Pacific Ocean to fulfill concert dates in Japan while shooting in the United States.
Search
Bios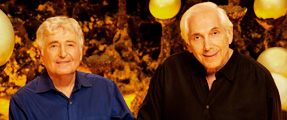 Many of the most colorful and fondly remembered children's series of the 1970s and 1980s sprang from the imaginations of Sid and Marty Krofft. Their groundbreaking, live-action fantasy shows were...
Read More
Awards
Music City News

Barbara Mandrell, Program of the Year, 1981

Action for Children's Television

Pryor's Place for Achievement in Children's Television, 1985

Youth In Film

Lifetime Achievement Award, 1992
History
It all started when their father, Peter Krofft, a master puppeteer in his own right, discovered seven-year-old Sid had puppeteering talent and auditioned him in his own production of "Snow...
Read More