Description
California teenagers Donald, Kristy and Loraine pretty much live at the beach. One day a bottle washes up with the tide and Donald finds a genie inside named Mongo! It's just in time because the kids are being harassed by a bully and his sidekick. It's too bad Mongo's magic doesn't work quite as good as his intentions!
Search
Bios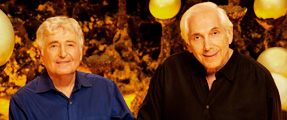 Many of the most colorful and fondly remembered children's series of the 1970s and 1980s sprang from the imaginations of Sid and Marty Krofft. Their groundbreaking, live-action fantasy shows were...
Read More
Awards
Music City News

Barbara Mandrell, Program of the Year, 1981

Action for Children's Television

Pryor's Place for Achievement in Children's Television, 1985

Youth In Film

Lifetime Achievement Award, 1992
History
It all started when their father, Peter Krofft, a master puppeteer in his own right, discovered seven-year-old Sid had puppeteering talent and auditioned him in his own production of "Snow...
Read More