Description
The Porter family is out four-wheeling when a massive earthquake rips a crack in the dirt road and they, with their Jeep, fall through a fissure into the Land of the Lost.
Cast: Timothy Bottoms, Jennifer Drugan, Robert Gavin, Danny Mann, Shannon Day, Bobby Porter, Tom Allard, R.C. Tass and Brian Williams.
Trivia:
Was shot on a soundstage in Valencia California, on location at Vasquez Rocks in Aqua Dulce, and the tree house was located at Descanso Gardens in La Crescenta,
Video
Search
Bios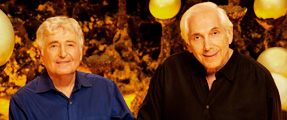 Many of the most colorful and fondly remembered children's series of the 1970s and 1980s sprang from the imaginations of Sid and Marty Krofft. Their groundbreaking, live-action fantasy shows were...
Read More
Awards
Music City News

Barbara Mandrell, Program of the Year, 1981

Action for Children's Television

Pryor's Place for Achievement in Children's Television, 1985

Youth In Film

Lifetime Achievement Award, 1992
History
It all started when their father, Peter Krofft, a master puppeteer in his own right, discovered seven-year-old Sid had puppeteering talent and auditioned him in his own production of "Snow...
Read More