Description
It's 1900 and the final chapter is closing on the American Western frontier. Harry Tracy is the last living robber of the legendary Wild Bunch. He robs his way across the West to Portland Oregon in search of his true love Catherine Tuttle, a judge's daughter. But he is betrayed and captured… and escapes! He becomes the target of greatest manhunt in American history. As the law closes in he must decide whether to surrender or die.
Starring: Bruce Dern, Helen Shaver, Michael C. Gwynne and Gordon Lightfoot
Search
Bios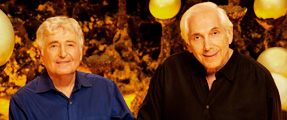 Many of the most colorful and fondly remembered children's series of the 1970s and 1980s sprang from the imaginations of Sid and Marty Krofft. Their groundbreaking, live-action fantasy shows were...
Read More
Awards
Music City News

Barbara Mandrell, Program of the Year, 1981

Action for Children's Television

Pryor's Place for Achievement in Children's Television, 1985

Youth In Film

Lifetime Achievement Award, 1992
History
It all started when their father, Peter Krofft, a master puppeteer in his own right, discovered seven-year-old Sid had puppeteering talent and auditioned him in his own production of "Snow...
Read More