Description
The Kroffts perfected the sibling rivalry angle, which they started with Donny & Marie, with this primetime variety show. The guests were a Who's Who of Country and Pop Music.
Trivia:
Every episode included the antics of the moth-eaten puppet band Truck Shackley and the Texas Critters. Each puppet was loosely based on famous Country singers. (i.e. Clyde the drummer was based on John Denver)
They shot three shows in two weeks, and then took the third week off to recuperate – except Barbara didn't do that. She spent that third week playing concerts and golf tournaments across the US. Guess she was living up to title of "Entertainer of the Year"!
Search
Bios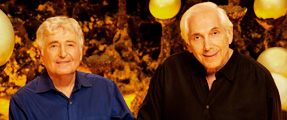 Many of the most colorful and fondly remembered children's series of the 1970s and 1980s sprang from the imaginations of Sid and Marty Krofft. Their groundbreaking, live-action fantasy shows were...
Read More
Awards
Music City News

Barbara Mandrell, Program of the Year, 1981

Action for Children's Television

Pryor's Place for Achievement in Children's Television, 1985

Youth In Film

Lifetime Achievement Award, 1992
History
It all started when their father, Peter Krofft, a master puppeteer in his own right, discovered seven-year-old Sid had puppeteering talent and auditioned him in his own production of "Snow...
Read More